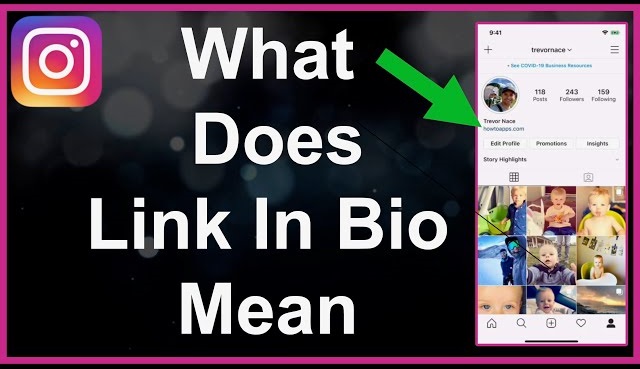 When dealing with Instagram, opportunities to direct users to your website or other external resources are limited. If your follower count surpasses 10K, you gain access to the coveted swipe-up feature for your stories. However, for your main feed, you're restricted to just one link in your bio. This emphasizes the need to use this link judiciously.
You could change this link every time you post something new, directing people to the specific content you mentioned in your latest post. However, this method becomes cumbersome and ineffective if someone encounters an older post and can no longer find the relevant link. I suggest employing this direct link approach only when promoting something for a brief period.
An alternative is to use services like LinkTree, which lets you compile multiple links onto a single, accessible page. You can update this page with new links as required, providing your audience with a succinct selection of resources.
While LinkTree serves its purpose effectively by allowing multiple links on one page, it lacks in aesthetics and branding options. This is why I advocate for crafting your own customized, branded link in bio page directly on your website. Functionally, it mimics the LinkTree concept but goes a step further, enabling you to create a fully branded encounter for your audience.
Establishing a consistent brand experience from the initial click is paramount. With a personalized link page, you can swiftly guide users to a finely branded environment. This centralizes essential resources, links, and vital information, all within an easily navigable interface. Moreover, this approach directs users to your website, boosting SEO and encouraging them to explore your content on your domain.
So, how do you create your own page?
You can seamlessly craft a custom link page using our platform's bio profiles. By setting up a new page with a list of links or buttons, you can effortlessly swap out links as needed without having to modify the link in your bio each time.
Tailor this page to your liking, showcasing recent blog posts, preferred shop items, or your current lead generation tool alongside your primary links. However, maintaining a clean, user-friendly design that emphasizes the links visitors are likely seeking is crucial. Limit your link list to prevent overwhelming visitors with choices.
What's the next step?
The link in your Instagram bio is a powerful tool for connecting with your audience beyond the platform. Crafting a custom link page enables you to offer a more cohesive, branded experience that efficiently guides visitors to their desired destinations.
Now is the time to create your own personalized link page. You can use the provided template or start from scratch, tailoring the experience to your brand. Regardless of the method, developing a customized journey that seamlessly bridges your Instagram and website is highly advantageous.
Begin the process by visiting Signing up for your free account - here